Bail Bonds: How to Find Help for Fast Jail Release in Kansas City
Finding a bail bonds company is key to getting out of jail fast when you don't have the money to pay cash. Finding a bail bondsman who you can trust is critical to your freedom. When you're looking for a way to make bail in Kansas City, you won't go wrong with Bratten Bail Bonds. Not only are we trustworthy and reliable, but we have built our reputation on honesty, integrity, and open communications. Importantly, we have cultivated solid, respectful relationships with the local law enforcement community, further ensuring a successful bond agency.
When you're arrested by KCPD you will be processed and held at a Patrol Division Detention Unit to provide the opportunity to post bond. If a bond is not posted, you will be transferred to a city-approved Detention Facility. The booking process consists of having your picture and fingerprints taken as well as recording the circumstances of your arrest. At the end of the process – which can take several hours – you will appear before a judge who will set a court date for your hearing and determine the amount of the bail necessary to secure your release. Once your bail has been set, you have the option of either staying in jail until your hearing date, pay the total amount of your bail in cash, or you can contact a licensed bail bonds agent to help you post a bond.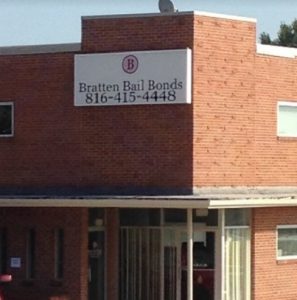 Staying in jail is not a viable option for most people, especially when it can take several months to get a hearing date. If you do not have the money to pay the full amount of bail in cash, you can contact a bond company. For a small non-refundable fee up-front, the bail bond company will assume the responsibility for ensuring that you appear at your hearing. If you show up at court at the designated date and time, the agency is released from its promise to the court. However, if you fail to arrive for your court date, the agent will be liable for the total amount of your bail until you are brought to court, and a warrant for your arrest may be issued.
Bratten Bail Bonds is an approved provider of 24-hour bail bonds in Kansas City, as well as other Missouri counties and cities. As your trusted bail bondsman, we will come to you wherever you are being held to help you post a bond. We offer several options for bail bonds including Surety Bonds and Property Bonds. For example, we may guarantee your bail bond with a down payment and monthly installments on the balance, or a property bond that is secured with appropriate collateral. In some cases, we can offer bail bonds without collateral. In any case, we will work with your friends or a family member to find an affordable solution to get you out of jail. Importantly, our bail bonds services are fast, affordable, and convenient. 
Bratten Bail Bonds has representatives near you, so when you need our help don't hesitate to call!
One number – 816–415-4448 – reaches all Bratten Bail Bonds representatives! 
Call any time, or email us at brattenbailbonds@gmail.com