What Makes a Bratten Bail Bondsman Exceptional
A Bratten bail bondsman provides an important service to people in the greater Kansas City metro area, whether they need help getting out of jail after being arrested, or by helping to avoid being arrested when there is an outstanding warrant. If you're worried that you are out of options just waiting until you are finally caught, you can take a proactive approach and turn yourself in where you may be arrested and booked. If you can pay the full amount of the bail in cash, you will be able to avoid arrest and detainment. There are several classes of felony crimes and depending on the crime you are arrested for, there may be a high bail set. In our extensive experience, a great many people do not have readily available funds to post a high amount of bail. Fortunately, you have the option of hiring a Bratten bail bondsman who can post a surety bond to secure your bail. 
In order to obtain a surety bond, you or someone acting on your behalf will need to pay a small, non-refundable fee, usually 10% of the amount of your bail. In some cases, depending on your circumstances and financial situation, Bratten Bail Bonds makes it possible for you or a co-signor to put up enough collateral to cover the full amount of your bail or to make monthly installments, or in some cases, simply use your signature as a guarantee. Once the agreement to show up for your court hearing has been made, your bail bondsman will pay the entire amount of your bail.
Whenever you call a Bratten bail bondsman, our agent can be of great assistance to you by helping to quickly maneuver your case through the Kansas City criminal judicial system and get you released from jail. This type of experience can be stressful and overwhelming to navigate, particularly when you have just been arrested and are now facing arraignment and bail. Our agency knows how the courts and bail process works and can help speed up the process to get you out of jail sooner.
Some of the ways a bail bondsman at the Bratten agency can help you include:
Checking with local law enforcement to find out your bond amount;

Complete all of the necessary paperwork to start the bail process; and

Accompany you to the law enforcement center to turn yourself in; and

Complete the process of obtaining your release.
As a highly skilled agent with a broad range of capabilities, an extensive knowledge base, and an awareness of how the local bureaucracy works, Bratten Bail Bonds is committed to helping our clients get out of jail. We provide freshly available information about our policies and process for assisting clients and we treat you with respect. We understand that the felony charges against you can change the course and quality of your life so we do our best to provide you with the opportunity to improve your circumstances. A Bratten bail bondsman possesses a sense of compassion that enables him to deliver his best efforts on your behalf at all times, including helping to relieve your fears and stress in what is generally a complicated situation.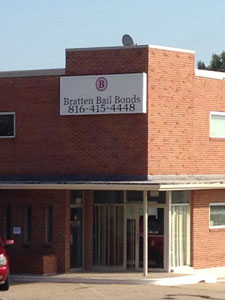 Bratten Bail Bonds is here to provide fast bail bond services for bail amounts set for serious crimes that carry felony convictions. If you or a loved one has been arrested in the greater Kansas City metro, our bail bondsman is at the ready to provide invaluable information and access to the number of funds that you need. If you have a lot of questions about the bail process and you need help that is confidential and fast, there is no better bail bond agency in the Kansas City area that understands the appeal process more than we do. Whenever you have been arrested and arraigned for a felony crime after the judge has set bail, we can provide assistance and we offer 24-hour access in the locations throughout Missouri that we serve.
Bratten Bail Bondsman has representatives near you, so when you need our help don't hesitate to call! We will immediately begin working with you or your to ensure that you or your loved one spends minimal time in jail.
Call (816) 415-4448 any time! One number reaches all Bratten Bail Bonds representatives!
Or reach out to us by email at

brattenbailbondsman@gmail.com